• Art • Artwork • days out • Daytrips • Galway Artist • Giclée Prints • Halloween • Inlove • Old Buildings • Pen and Watercolor • prints • Romance • Ruinlust • Short story • Terror • Writer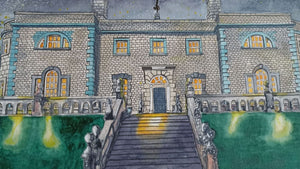 Chapter 1: The Early Days
Our story commences in the 18th century, a time when Ireland was home to a man named Robert Rochfort, the 1st Earl of Belvedere. With his immense wealth and high social standing, he was expected to find a suitable wife to carry on his lineage. Little did he know that this decision would mark the beginning of a dark and tragic chapter in his life.
Chapter 2: A Troubled Marriage
Mary Molesworth, a beautiful and talented lady, became Robert's bride. Their union produced four children, but Robert's desire for a male heir led to disappointment. As Mary sought solace and companionship in her neighbors, including her brother-in-law Arthur, rumors of adultery began to circulate, casting a shadow over the marriage.