• Art • Artwork • Galway Artist • Giclée Prints • Old Buildings • Pen and Watercolor • prints • Romance • Ruinlust • Short story • Writer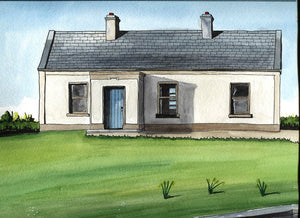 Boots lined the lime washed walls, the soles caked in dried mud.  Years of hard labour had formed creases and crevices - pathways of time engrained in leather.
The rusty gate groaned with effort, much to the gentle sigh of the fir trees as they bowed their heads in the wind.  A tiny confetti of needles danced to the ground.
A worn path under my feet, partially shrouded in lichen, hid a collection of past footprints.